After first and second trimester symptoms editions, here goes! Weeks 28-40.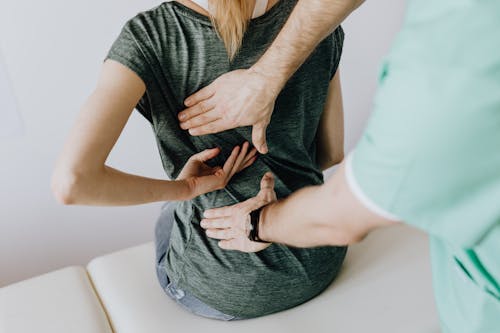 Week 28
Holy sacroiliac joint pain this week!
Thanks to pregnancy hormones and relaxin, my sacroiliac joint and ligaments have begun loosening up causing severe right sided SI joint pain.
My SI join pain has been localized to my right side and is worse when I do isolated right leg activities like putting on compression stockings (I can't even….), pants, and shoes.
Going from seated to standing positions, walking for extended periods of time, and walking up stairs are also painful.
It was a challenge trying to find a woman's health physical therapist covered by my insurance. Chiropractors also came highly recommended by others; especially if trained in the pregnancy Webster technique. Unfortunately, I really didn't have too many options to choose from and went with a PT specialist that was part of my hospital insurance plan.
Week 29
Despite my sciatic pain, I decided to plan a trip to Glacier National Park in the NorthWest corner of Montana.
I think it was wishful thinking that my pain would disappear during my ~5 mile hikes each day…
It did not.
But I didn't let that stop me from enjoying the last babymoom trip I could squeeze in with my husband!
I was conscious of the long car ride getting to the park (~15 hours one-way), and broke the drive up in half, wore compression stockings, and made sure we stopped frequently so I could stretch my legs; all good ideas to prevent blood clots!
Week 30
This week, we ordered an elective ultrasound because we just couldn't WAIT to see what baby Ariana was looking like!
At least in my OB practice- for my age (31)- there was no protocol or requirement to have a 30 week ultrasound unless there was a concern for fetal growth or if I was a higher risk pregnancy.
We recognized that we'd have to pay for it out of pocket, but with how big she was growing, how active she was during the day, and with the difficult facial images we struggled to get with our 20 week ultrasound, we knew she would be healthy and didn't mind. We decided it was worth the splurge!
I had an OB appointment following the ultrasound. My OB reviewed the images and noted her weight to be down to the 26th percentile.
That was a pretty significant drop from the 88th percentile she was in at her 20 week ultrasound, however, my OB made a few good points.
She was measuring appropriate on exam
There is significant error in measurements due to how it's accomplished by the ultrasound tech. Apparently, the abdomen is the only organ with a visible layer of fat that aids in accurately measuring her growth
Because of the small metrics used for measurements, a deviation of a gram or two (or whatever metrics they're using), could be a significant difference that may or may not be clinically relevant
Our OB wanted us to come back for another ultrasound in 4 weeks. Again, he reassured us that her amniotic fluid levels were healthy, and that she was measuring appropriately, so he wasn't overly concerned.
I felt satisfied with how he explained everything, and also excited to have another opportunity to see her cute little face again on 3D ultrasound!
This week, I also followed up with a Physical Therapist to help with my right sided sacroiliac joint pain.
A few things to note about finding providers to help with SI pain:
Physical therapists: not all are covered by your insurance. Be sure to shop around and make sure they specialize in women's health. PT can offer you stretches, exercises, soft tissue massage, and 1:1 demonstration of pregnancy / SI safe exercises in a gym setting
Chiropractors: apparently, there is a special training for pregnant woman known as the Webster's Technique that you want to make sure they are certified in. My physical therapist mentioned that it's important to find a Chiropractor who has credentials or experience treating pregnant women. It's okay to do manipulations, but to recognize that there is a down-side to "over-manipulating," as our body is naturally trying to stretch and loosen pelvic ligaments in preparation for birth. Finding a healthy balance of pain relief while allowing our body to still undergo a natural process is important.
Massage: Physical therapists can offer support with soft tissue massage (again- screen for a background in women's health). Or, if you're going to get a massage at a med spa, ask specifically for prenatal massage and a masseuse with experience in pregnant clients.
Week 31
Despite my right hip pain, I had been able to continue doing Peloton rides. I kept my workouts in the saddle and low impact, but I was still able to build up resistance and cadence in my legs to earn a good sweat.
I was also able to do Beach Body's Prenatal Barre class. If there were any moves that started to irritate my hip, I would modify them in a way that would eliminate the pain.
Floor mat work was great! Especially when I used the resistance loops. Surprisingly, after both of these style workouts, my hip pain was feeling BETTER.
I bet it was from me strengthening my pelvis and supporting muscles.
Aside from exercise, I began adding in positive affirmations to my morning routine. Here's a great (quick) Youtube video for Third Trimester:
Since we're on the topic of Youtube, one of my girlfriend's recommend Sarah Lavonne's channel for Pregnancy tips and education. Sarah is a certified Labor & Delivery nurse, childbirth educator, and birthing coach.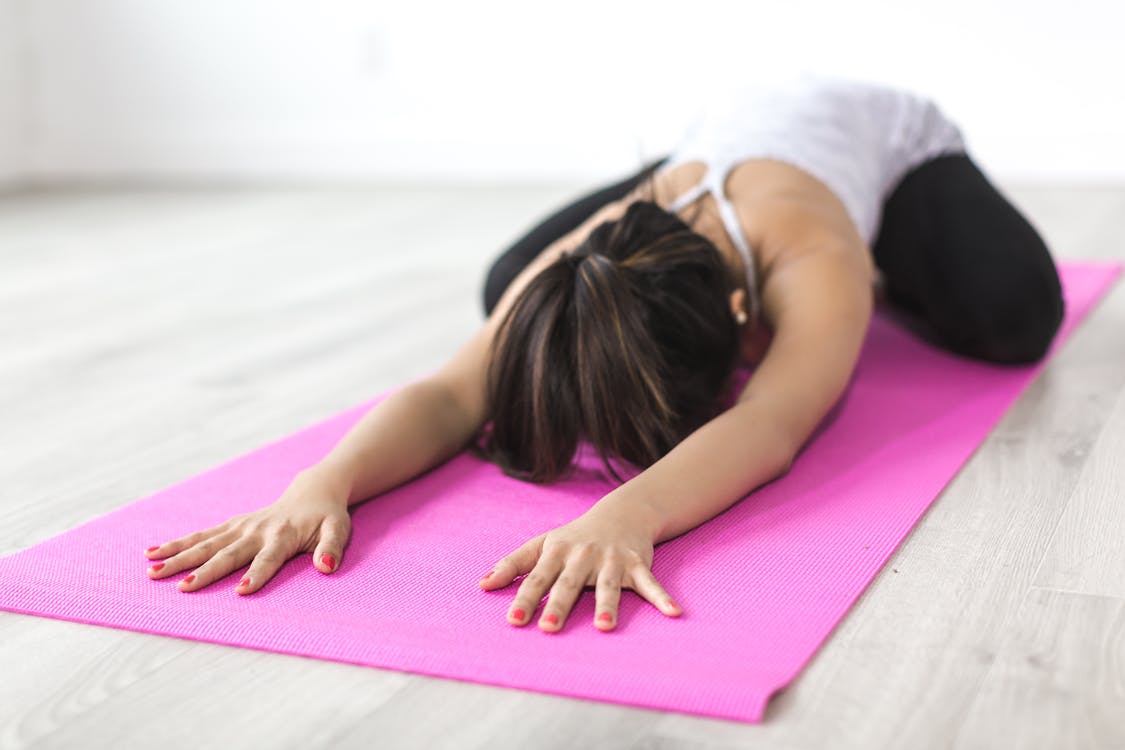 Week 32
WOOHOO! My sacroiliac hip pain is GONE!
I had a follow-up appointment with Physical Therapy and a womens' health specialist Chiropractor. Overall, my pain was already down 50% so there wasn't too much more for them to add, other than to help with some soft tissue massages, adjustments, and some time in the PT gym going over a few exercises.
This week, I was able to walk like normal without a limp! I was back on track with my exercise and was able to still do 45 minute workouts most days of the week (~20-30 minutes of high intensity spinning both in and out of the saddle with heavy resistance, and 20-30 minutes of strength training).
With strength training, I kept my pre-pregnancy weights down about 5-10 lbs. Technically, I'm carrying it in my belly, so I didn't feel a need to add additional strain and abdominal pressure to my belly.
No need for stretched stomach muscles (called diastasis recti). I could notice my little "mountain peek" forming on my stomach with certain exercises such as planks, push-ups, and side planks. When these movements came up in my exercises, I would skip them and substitute them with a different move altogether.
This week, I was listening to Dr. Rhonda Patrick's Podcast "Found My Fitness" on breast milk and became fascinated by the research she reviewed. Dr. Patrick has her postdoctorate in research, so her talks can get really deep into the scientific weeds of things, but she does have a good way of summarizing the key take-away points if science and biology aren't your strengths.
From the podcast episode, I decided to purchase an additional Omega-3 / DHA supplement to take with my morning routine of Calcium/ Vitamin D and my prenatal in order to help with Baby Ariana's brain growth and maturation. I probably should have done this sooner, but meh- I still have 2 months to go. Still plenty of growing time!
Always be sure to run any medications or supplements by your OB/GYN! I swung my provider a staff message to make sure he was okay with specific supplement I had before starting it.
Otherwise, this week has just been more cumbersome with the day-to-day bending over and reaching. Putting on socks is challenging because it causes so much pressure on my stomach to reach down (or forward if I'm sitting on the ground). I'm at the point where I have to cross my foot over my knee so my belly can stick out in front of me, in order to finish getting dressed in the morning (ha!).
Thankfully, my clothes are still fitting okay, and most of my weight is going into Ariana's growth.
I have officially gained 20 lbs since becoming pregnant at the 32 week mark.
I did have to buy a few more pairs of pants due to the change in season. If you're looking for great stretchy jeans (for fall/ winter), I highly recommend Target! I really liked their crossover panel pants. They were stretchy and comfortable.
Week 33
This week, I brought my husband with me to a full Saturday pre-natal session called "Birthing With Confidence." From 9a-5p, we covered a lot of ground from pre-labor, labor, and postpartum stages.
I was really looking forward to the class because I've been having some fear and anxiety around labor and how I'm going to handle the pain.
I'm often asked what kind of birth plan I'd like to have (ie: natural without analgesics, epidural, C-section etc.) and I really didn't know how to answer the question.
Between the class and the live demonstrations (of comforting labor positions), I felt really confident in a birth plan and preparing for labor and delivery as a whole. I HIGHLY recommend taking advantage of the educational classes that your OB/GYN and hospital provide to you. They are really insightful!
And be sure to bring your significant other too- there's always bits and pieces worth discussing together and learning about as a team so you can both feel prepared when baby is ready to arrive.
When it comes to gaining clarity around your birth plan… the one thing the instructor reiterated – and many moms I've spoken to agree- is that NOTHING goes according to your birth plan.
Having an open mind, being flexible, and above all, doing what you need to do to ensure you and the baby are healthy and thriving is all that matters when baby is on her way.
After a thorough day of education, my husband and I returned back to our apartment to finish up our packing.
Nope, not packing a bag for the hospital.
Packing up our apartment to move into our first home. Yup. We bought a house and are moving with about 6 weeks until baby Ariana comes.
Thankfully, we've been packing slowly but surely so the process hasn't felt overwhelming. We'll have plenty of time before baby Ariana arrives, so we're not feeling too overwhelmed or stressed about it.
But I must say, it sure will be nice to have Ariana's nursery and the house all set up and ready to go before she arrives!
Week 34
It's move-in week!
Boy oh boy. What a moving day. Despite our best intentions to prepare for the move, we did not have a smooth day. Our movers ended up taking upwards of 13 hours to move our apartment furnishings due to lack of moving cart supplies, man-power, and difficulty with some of the disassembly (and re-assembly) of some of our furniture.
I had labeled all of our moving boxes appropriately, so by 8:30pm the night of our move, all of the boxes were where they needed to be, the big furniture was set up, kitchen unpacked, and bedroom ready for bed.
As tempted as I was to help move the process along, I was also intentionally mindful of not lifting heavy items or boxes. The last thing I needed was to go into early labor!
I ensured calming music was on throughout the day, I kept myself relaxed, and I made meditation and journaling a priority to keep my stress levels low.
After a week of unpacking boxes, running around town for errands and little projects, our house was finally settled into!
This week, we also had our 34 week ultrasound. Baby Ariana was stable at 24th% for weight and was healthy (and happy!) during her ultrasound. We got some great pictures of her sucking on her toe and smiling.
Week 35
This week was very hectic with my work schedule and moving into the house. It's challenging not being able to help lift heavy objects or boxes.
Thankfully, my husband was able to recruit some fellow male muscles to finish getting most of the house set up while I powered through my shifts at work, coordinated service providers, and did a lot of the errands and shopping around town.
I definitely feel bigger this week! It's almost like Baby Ariana doubled in size (feels like!). My clothes are feeling a bit tighter and my face is starting to look a bit rounder and fuller, but thankfully, I'm keeping some of the swelling out of my legs and feet with continued use of compression stockings.
Week 36
Baby Ariana has definitely dropped lower in my pelvis this week. It was challenging to transition from lying on my side to standing. When I would cross my legs, my pelvis would feel uncomfortable pressure- as if I were squeezing her head. Other activities – such as trying to step up into the driver's seat of my SUV- would feel as if I was stretching my pubic rami and felt sore and uncomfortable.
Bending over, putting on socks and shoes, and reaching for things on the ground have also become more cumbersome.
As much as I was looking forward to having a few more weeks of quality time with my husband before she comes, I'm now at the point where I'm ready for her to make her appearance.
I had an OB appointment this week as well. At the appointment, they collected a Group B Strep test (vaginal test). If you test positive for this, they have to give you a one-time dose of antibiotic at the time of delivery to protect your baby.
My OB also did a cervical check on me for a baseline comparison for when I'd eventually go into labor.
So far, I am 1cm dilated and 50% effaced. He reassured me that I could still stay here until my due date.
This week, I also went on a shopping spree. I found some really great baby clothes on some of these websites:
Week 37
Eek! This week has definitely been a bit more cumbersome with my big belly. Getting up from lying down is very challenging and puts a lot of strain on my pubic ligaments. Bending over to put on socks or shoes is also a challenge!
At this week's OB appointment, I was checked again and had progressed to 2cm dilated and 80% effaced.
I've been having to take it easy on my exercise and have actually stopped using the bike altogether because of the pressure it puts on my pelvis. It causes my abdomen tense up and baby Ariana starts kicking me.
I'm still unable to differentiate Braxton Hicks contractions from her stretching and moving on her own. So far, I haven't had any contractions or significant pain that has been causing me alarm. If anything, I am continuing to work (and pick up extra shifts) in order to power through to my due date.
However, that may have to change soon due to the worsening COVID pandemic in my hospital and local area. The last thing I need is to be COVID positive right before delivering her.
Week 38
I definitely think I'm starting to get Braxton Hicks. If I bend over to pick anything up, my abdomen firmly tightens in a non-painful way, and it doesn't feel like discrete kicking or limb movements.
Baby Ariana is definitely heavy and deep in my pelvis. When I wake up in the morning, I feel her entire body really stretching out my lower abdominal skin. She's definitely getting larger and pushing up against my intestines because I've started noticing my stools becoming more frequent and looser. I'v also noticed an increase in clear / egg white vaginal discharge. I'm not sure if the volume is large enough to count for expulsion of the "mucus plug" that they talk about.
This week I also made the decision to transition my clinical / hospital shifts into Telemedicine visits. With COVID actively in my department and cases rising in the hospital / community, I would feel too guilty if anything were to happen to my pregnancy this close to delivery.
Week 39
This week, I met with my OB for one of my weekly appointments.
I'm 3cm dilated and 90% effaced.
After the appointment, baby Ariana felt very low in my pelvis, convincing me that she was ready to come out any day. However, it took an additional 4 days from this appointment for mild contractions to officially kick in.
The contractions were instigated by being on my feet all day walking, doing errands, and projects around the house. By the evening, my entire abdomen would tighten up and would occasional cause my low back to go into mild spasm.
The contractions were mild. I was able to continue standing, cooking, laughing, and chatting throughout them. As I walked, my abdomen would tighten a bit more, but they were never painful. They averaged around 3-4 / 10 on a scale of discomfort.
I used a free Contraction Timer app to start recording how long my contractions were lasting. They were lasting over a minute and were about 3 minutes spaced apart.
I had already packed my hospital bag, so I took my time showering, getting ready for the hospital, and finalizing our bags. I gave my Family Birthing Center a call to let them know I was starting to have more regular contractions but that I still hadn't broken my water.
Due to the mild nature of my contractions, the triage RN recommended I labor longer at home until the contractions began taking more of my breath away.
I took her advice and was able to get a good night's sleep through the contractions. Once I woke up the following day and was up and walking and more active, they began again.
In order to induce labor, I laced up my sneakers and tried to go for a long walk outside. I only lasted 1.5 miles before my bladder was full and the pressure in my pelvis began building up, making the pace of my walk slower and longer.
At one point, I almost felt like I was having intestinal pressure- like "rice crispies" were crackling in my left lower quadrant as I was walking. It wasn't painful but it was a unique sensation I had never felt before.
I was pretty wiped from the walk and decided to put my legs up at home for a few hours to rest a bit. Whenever I'm sitting or resting, my contractions stop.
So far, my total weight gain for the pregnancy has been 25 lbs.
Week 40
Ariana's due date was on Thanksgiving this year 11/26/20. The day after Thanksgiving, I woke up with a little bloody discharge followed by regular moderate contractions. The contractions started first thing in the morning and were regular; some were 1 minute apart, others were upwards of 6 minutes apart.
I called my Family Birthing Center at the hospital to let them know that I had new bloody discharge, and was reassured that this was normal. The same recommendations were given to me about when to come in to the hospital:
Contractions that would take my breath away
Heavy contractions 5:1:1 (1 minute contractions, 5 minutes apart, for 1 hour)
Water breaking
Luckily, I had a follow-up appointment with my doctor on the same day. He checked my cervix and said I was 4cm dilated and 90% effaced. We were eager to get the show on the road, so he swept my membranes and admitted me to the hospital.
After settling into my labor room at the hospital, I was given Penicillin since I tested positive for Group B Strep and had to wait 4 hours after the 1st (of 2) doses of the Penicillin before the OB would break my water.
Around 9pm, my water was broken. Baby Ariana was already low in my pelvis so my contractions started within 5 minutes. At first, they were manageable with meditation, imagery, and breathing. My husband dimmed the lights in our birthing room and turned on my LED candles that I brought.
Which reminds me- here are the important things I thought were worth having with you at the hospital:
2 night gowns that can open easily to nurse with
Nursing bras (2+)
Toiletries (including shampoo, conditioner, and soap)
Your own pillow and blanket
Slippers or cozy socks for the hospital room
LED candles
Camera (with extra card and battery)
Chargers
Cute baby onesie for the car seat / ride home (with hat and booties)
Extra burp cloths and swaddles
Breast pump (I have the Spectra) and Haaka (for catching milk letdown on the opposite breast while feeding)
Ok, back to the labor.
As the contractions intensified, I couldn't bear to be touched or stroked. The only thing that helped was when I would do some of the comfort positions and my husband would apply counter pelvic pressure to my hips.
After an hour of labor, my contractions were so intense I could hardly stand. My legs were shaking, I felt like I was going to vomit, and I almost broke down into tears in defeat. At this exact moment, my husband's sister had been texting him reminding him to let me know not to be a hero and to get the epidural if I needed relief.
I definitely wasn't against having an epidural. My birth plan was to try to progress as naturally as possible before augmenting my labor with any intervention.
When my husband mentioned what his sister said, I immediately told the nurse to call the CRNA for my epidural. I truthfully wasn't sure how I was going to get through 45 minutes- 1 hour until the epidural was in (since I was told to expect this long to wait for it to arrive).
Thankfully, the CRNA had no one else ahead of me and arrived within 5 minutes. She was very calming and did her best to communicate to me about the risks/benefits/alternatives of the procedure, but I was actively contracting and desperately scribbled my name on the consent for to get pain relief ASAP.
Once I was positioned in bed, the CRNA began my epidural during a break in my contractions. The worst pain was honestly the numbing medicine from the initial needle. I did have a strong contraction during the procedure but was able to breathe through it okay without moving.
As soon as I laid down and the medicine was activated, I had immediate relief of my contractions. I had some sensation in my legs and about 50% mobility of them as well. I was relieved with this because I could help turn and reposition myself as needed. I could also feel rectal pressure when the contractions came on (which is also where they directed me to push from; as if I was having a bowel movement) so that was super helpful as I was pushing so I could participate in labor.
After what felt like no time at all, the labor and delivery RN told me to start pushing. Together, over the next hour, we pushed until Ariana's head was at the level of my pelvis. There were a few times when pushing caused her heart rate to decelerate. At these moments, I had to lie on my side with a peanut ball wedged between my legs in order to open up my pelvis and to relieve pressure on her umbilical cord so her heart rate could recover.
This little munchkin had SUCH long jet black hair- it was the first thing I could see as she was starting to arrive. The RN had placed a mirror at the foot of my bed so I could watch as I was laboring.
The RN paged the OB for delivery. In a few minutes, she arrived with a surgical tech and a few other support staff in my room. They set up a sterile table at the foot of my bed and were surprised by Ariana's progress.
As I was pushing, I briefly heard the team mention "vacuum" and "NICU." I looked at my husband who was otherwise extremely calm during the entire labor. He looked panicked.
The OB told me she was worried about Ariana's heart rate as I was pushing. It was a stressful moment. The OB elected to perform a small episiotomy right before my next batch of contractions. In a matter of a few pushes, Ariana successfully came through, followed by a release of pressure and warm fluid.
I immediately heard her screaming and crying as they brought her to my chest. The OB delivered my placenta and began repairing my episiotomy incision (and internal vaginal tears I sustained).
Here's the interesting part.
As they laid Ariana on my chest, I felt… nothing.
I've heard a lot of women explain the love that you feel when your baby is on your chest. Some describe it as your heart leaping from your chest. Others immediately start crying with a rush of hormones.
I felt none of these things. I almost felt detached- as if this wasn't my child altogether. No tears. No surge of maternal hormones. And when I looked at my husband, his face was dry as well.
When chatting about it later, my husband and I both think we were in such shock and overwhelm from the entire labor and delivery process, that we didn't comprehend what was happening and that we literally just had a baby.
It wasn't until we settled into our postpartum room and spent the next 24-36 hours alone with her "rooming in" that we began to bond and emotionally attach to her.
During the first 24 hours after her birth, I practiced skin-to-skin with her and breast feeding her. The RNs were fantastic and coached us through how to swaddle her, attend to her, and how to prepare for the remainder of her stay.
We were seen by the Pediatrician, lactation consultant, midwife, and massage therapist during our stay.
Ariana had injections of Vitamin K, Hepatitis B, state mandated testing such as PKU bloodwork heel prick, hearing test, heart exam, and bilirubin screening done.
Her bilirubin test came back slightly elevated, so we had to make an appointment with the Pediatrician the day after discharge from the hospital for follow-up.
All in all, the labor and delivery was in itself a very traumatizing experience. I was extremely sore and swollen after delivery, and was VERY thankful for large pads, perineal bottles, witch hazel pads, ice packs ( / frozen maxi pads), and stool softeners! I cannot emphasize this enough!
However, we could not be happier to have a beautiful healthy baby girl with a full set of jet black hair.
Introducing:
Ariana Arfaie
Born Saturday 11/28/20 at 1:38am weighing 7lbs 6oz and 20 inches long.